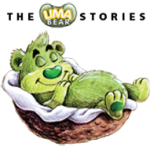 Learning While Reading Is Easy Once You Get Started
The key to learning while reading is to include your child in the reading process.  You are not simply reading to your child, you are reading with your child.  Enjoy watching your child's excitement as he/she figures out the answers to your questions.  For example, after reading the whole book through one time, go back a re-read the book, asking your child to reason out how a picture on the page relates to the story.  On the very first page of  How Back-Back Got His Name, Lima Bear is shown asleep with a candle next to his bed.  The wax has dripped down the sides of his end table (a thimble – too cute, I know). You could ask your child, "why do you think the candle wax is drooping?" Could it be that before it was blown out that it was burning for a long time?
Additional Activities Stem From the Questions that Pop Up While You Read 
While you are talking about candles, why not create a little project where you both research how the first candles were made. You could try to make your own candle or visit a candle making shop.  See how easy it is? We've read just one page of one book and we've come up with several great questions and activities already!  You can do it too!
Lima Bear Resources to Keep the Learning Going
"Extend the learning" pages, found in the back of each Lima Bear Book, are available to give you a jump start! Interactive reading ideas are also for you in the back of each book.  With a little practice, you and your child will be coming up with your own great ideas for additional learning.  Feel free to share your own tricks to help your child learn as he reads.