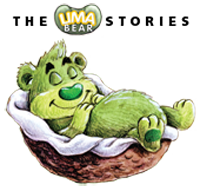 In the 12-book series The Lima Bear Stories, the basic characters appear and reappear. Each has a distinct personality that shines through in every story.
While the children have no idea what twists and turns the story may take, they come to know the characters and have a pretty good idea of how they are likely to act in different situations and settings. Children become friends with the characters as they read the stories over and over. There is a form of bonding that develops.
Each story carries an important overriding message such as courage, tolerance, honesty, forgiveness, teamwork and many more that help children with life's issues and lessons. We believe that this bonding creates a more profound understanding and appreciation of the message.
The special 'Extend the Learning' and 'Activity' pages allow teachers, parents, and grandparents to introduce concepts before reading, ask questions during and following the reading, and then participate in an activity to encourage the children to be involved in the concepts. They enhance the fun and learning experience of each book.
All books are 8.5 x 11, hard cover with dust jacket
Full color illustrations, 32 pages
Extended Learning & Activity pages for parents & teachers