Authors Thomas Weck and Peter Weck realize the need to address THE issue of bullying in a way kids can understand. Now with their 5th book in the Lima Bear Stories series they offer a valuable approach: turn a bully into a friend.
In the kingdom of Beandom, Bully Bean is feared. He makes fun of other beans, plays mean tricks, and puts others in danger. Lima Bear seems to be Bully Bean's favorite bean to pick on, perhaps because Lima Bear is the only bean with green fur and is always helping others.
But what happens when Bully Bean is in danger? What will Lima Bear and his friends do? Will they run away? Will they rescue him? Lima Bear shows that turning a bully into a friend can make all the difference. And then Bully Bean surprises them all by his reaction.
The special 'Extend the Learning' and 'Activity' pages allow teachers, parents, and grandparents to introduce concepts before reading, ask questions during and following the reading, and then participate in an activity to encourage the children to be involved in the concepts. They enhance the fun and learning experience of each book.
The message of the story: Turn a bully into a friend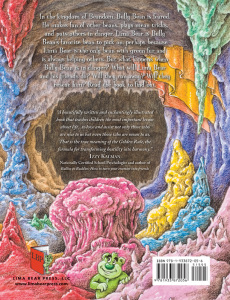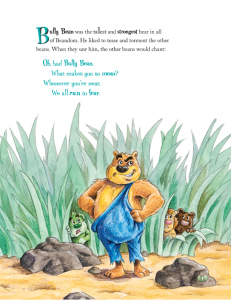 "A beautifully written and enchantingly illustrated book that teaches children the most important lesson about life…to love and assist not only those who are nice to us but even those who are mean to us. That is the true meaning of the Golden Rule, the formula for transforming hostility into harmony." —Izzy Kalman,Nationally Certified School Psychologist and author of Bullies to Buddies: How to turn your enemies into friends

"This story describes bullying without being too frightening for young children, and reading this book together can spark a discussion on what to do when it happens. Children will recognize themselves in little Lima Bear, and cheer his solution to the problem." —Lyda Whiting, Awareness Magazine
…I think being an involved parent is the only thing one can do. Part of that is sharing with them books like this, a way for them to be reminded again that bad things happen to even the nicest people, that often there is no good reason for it, that this sort of thing can happen to anyone, and hopefully, hopefully, they'll feel empowered enough to talk about it.

As a side note, Bully Bean is the best illustrated book in the colorful series; artist Len DiSalvo seems to have found a fine palate balance between 'less-is-more' on the single pages, and a controlled exuberance on the two-page spreads. His rendering of the 'human chain' the lima bears make to save Bully Bean is rich in its tricky composition and perspective relief." —Tony D'Souza, Peace Corp Writers
"This story will help even the youngest Lima Bear lovers learn that all boys and girls can be heroes by being good and helpful instead of being mean and hurtful. This book's vital message is an early step to alleviate the nightmarish childhood problem of bullying." —Philip Dale Smith, parenting/childhood specialist, and national award-winning author of Over is not Up!, Nighttime at the Zoo and 1, 2, 3 Special Like Me
"…What I really liked about this story was way in which the characters who were being bullied, forgave the bully and helped the bully. Bully Bean realizes his error and becomes a good friend and a contributor to the community. The Weck authors have written a story which illustrates not only the issue of bullying but also a positive way that we can help our children through the challenges of dealing with a bully." —Chris, dadofdivas.com