What's the King of Beandom to do? The tiny, multicolored beans of Beandom are under attack by a monster. Even the King's wisest advisors seem unable find a solution. Who will save Beandom? Can an ordinary tiny bean step forward with a plan that works? Welcome to Beandom! It's a great place to visit. Or, it will be— just as soon as we get rid of that pesky monster!
The special 'Extend the Learning' and 'Activity' pages allow teachers, parents, and grandparents to introduce concepts before reading, ask questions during and following the reading, and then participate in an activity to encourage the children to be involved in the concepts. They enhance the fun and learning experience of each book.
The message of the story: Follow your convictions even when others think differently.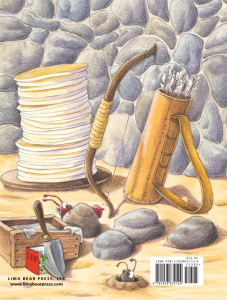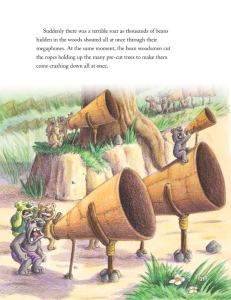 "…Father and son teamed up to create Lima Bear Press, a publishing company with a mission: to publish children's stories that are engaging, imaginative and funny and that carry important messages such as tolerance, honesty and courage.

'The books have to have a message — that is part of the story. The illustrations have to be copious and beautiful, they have to be very funny; and characters have to have a personality," said Thomas Weck, who had worked as the president of an engineering/environmental firm. "After a few stories, children who follow the series will start to take ownership of the characters.'" –The Star-Ledger, Newark, NJ, Carmen Juri
"Absolutely delicious! The Megasaurus is a wide-eyed read that makes you laugh, and lets you root for the hometown hero. It teaches respect for everyone–not just the 'wise.' Love it! Love it! Love it! Excellent to be used both at home and in school." –Lisa Hauser, national award-winning children's author and editor
"…I love this book, because I think all kids are scared of monsters. It is a great way to show them that they can win the battle with the monster under their bed or in their closet. The illustrations are fun (especially the one that has the solution to their monster problem!). The Megasaurus also has an extended learning and activities section that allows you to take the story into the real world. The Megasaurus is for ages 4 – 8, but I think all kids would love –Lisa Martin, LisaReviews.com
"…One of the things I particularly liked was how the owls' dialogue was in a different color. My daughter instantly started reading those as though they were a script. The author/publisher put a lot of work into creating excellent, meaningful, and relevant bonus material.

…There are several different bullying scenarios in the book that are complemented by creative problem solving. The illustrations are great and the story opens the door for discussions with kids." –The Reading Tub
"There was a monster loose in Beandom. Megasuarus was out of control and looking for his favorite food — beans! L. Joe Bean had a plan that he was sure would work, but no one would listen…Reading this book together offers parents an opportunity to talk with their child about fears, monsters and following your convictions. The book also includes some fun ideas in the Extend the Learning and Activities pages." –Tracie Grimes, Kern County Family magazine
"All children have a love/fear relationship with monsters. That is why The Megasaurus by Thomas Weck and Peter Weck, with captivating illustrations by Len DiSalvo is a wonderful story to share with any 4 – 8 year old…. 

The Megasaurus is the first title in an exciting series of book being published by Lima Bear Press, LLC. The publisher's mission is to publish children's stories that are engaging, imaginative, and humorous while carrying an important life message such as tolerance, honesty, courage, etc. The stories are entertaining and meaningful both to those who listen as well as to those who read them aloud. " –Tami Rose, FamilyCorner.com