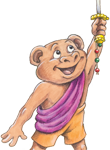 If there is one thing that we here at Lima Bear press have heard over and over again, it is that kids love to have the Lima Bear Books read to them over and over and over again.  Recently, the  author of the Lima Bear Series, Tom Weck, was interviewed by Rachel Koestler-Grack of Story Monster's Ink.  In the interview Tom revealed a few secrets about those exciting beans from Beandom and how the Lima Bear Books have come to be.
Secret #1: Why bean-sized bears in Beandom?
Tom:
When children come into the world, they come into a world that's sized wrong, it's sized for adults. Due to their small size, the Lima Bears encounter many of the same obstacles children face, living in an oversized world.
Secret #2: What are the two strict criteria that each Lima Bear Story must have?
Tom:
The story must be well written and expand a child's mind in both knowledge and vocabulary. Tom says, "I think young minds are under- estimated in terms of how much they can absorb."
Secret #3:  What is the author's favorite child's reaction to each Lima Bear Book?
Tom:
Laughter!
Thomas loves to laugh, and all of his stories trigger sidesplitting laughter from children and parents alike. In fact, if the story doesn't incite an up- roar of hilarity, it won't go to print.
You can read Tom Weck's entire interview with Rachel Koestler-Grack at Story Monsters Ink's December issue.  Tom's interview starts on page 12.