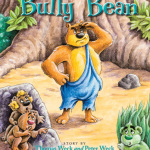 No One Likes a Bully
No one likes a bully,  least of all a child who may not know how to handle such mean behavior. It is important for parents to recognize the signs of bullying reflected in your child's behavior so you can help them to do something about it. In the Lima Bear Book, Bully Bean, the bullying behavior is easy to spot.  Poor Lima Bear is tossed into a hole that he was too small to crawl out of himself. As if that were not enough, he was also pushed into a mud puddle.  Lima Bear has an opportunity to deal with the bullying by showing kidness when the bully of all bullies, Bully Bean, gets trapped.  Not all children have such an opportunity to turn the tables on the situation and they may need a little help to cope.
Recognizing the signs of bullying
Dr Michele Borba, author of The Big Book of Parenting Solutions, says "… bullying is starting at younger ages and may be more intense." Also that, "…our children don't always tell us that they have been bullied." This means parents have to be more vigilant than even when assessing changes in our children and watchful for signs of bullying.  Dr. Borba outlines 19 signs that your child may be being bullied.  Here are just a few from her list.
Does your child:
…have a marked change in their personality?
…suddenly NOT want to go to school?
…have a change in eating habits? either too much or too little?
…have a drop in grades?
or do YOU feel in your gut that something is just not right with your child?
Any of these changes in your child could signal that your child is being bullied.   In our next post we will examine the steps parents can take if they suspect bullying.  Hang in there.  There are ways you can help.