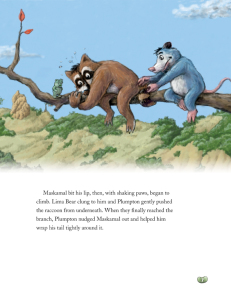 Kids do not want to be different 
The last thing a kid wants to be is different.  To be different means attention and it is not always good attention.  You could be a different in a whole lot ways.  You could have a lisp, like Cindy Brady had.  You could be the last one picked for the sports team.  You could always get the lowest grade in the class or the highest grade for that matter.  You could stay back a year instead of moving forward with your classmates or you could be asked to skip a grade.  Whatever the difference, we are programmed to believe that different is bad.  Wouldn't it be great to convince our kids and for them to actually believe that different is good?
How a difference can be a good thing
In the Lima Bear Press series book, How Back-Back Got His Name, one of Lima Bear's friends, Plumpton, has an emergency and sends for Lima Bear for help.  Plumpton is an opossum, you see, and somehow his back was missing.  When all his buddies come to his aid to help him find his back, they all find themselves in danger from the kids playing in the Big Meadow.  Plumton must use his special skill, his difference of playing dead, to get past the kids and save his friends.  Plumpton's difference is what enables him to save his friends!
Reading a story like How Back-Back Got His Name with your child is a great way to illustrate how a difference can be an advantage, something can be embraced, even valued!  Share what made you different when you were a kid.