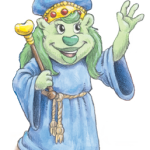 *Contest Closed* Sign up for our Lima Bear Press newsletter for your chance to win a free copy of a Lima Bear Book!
To celebrate our new website and and a terrific new review of The Labyrinth by MotherDaughterBookReviews.com , we are offering a free copy of the book to the first two commenters who answer the following question correctly on this blog post: (US and Canada ONLY)
Read the review at MotherDaughterBookReviews.com and answer the following question:
The author of the review mentions that she thinks that when L. Joe Bean, the story's hero, cuts an "L" into the chariot and shirt of Mean 'ol Bean that the author may have been giving a nod to what famous movie?
We will ship the first two correct commenters a copy of The Labyrinth…makes a great Christmas present for the child on your list!
Good Luck!
Again, What famous Movie does the author of the review refer to?