Reading to Your Child Interactively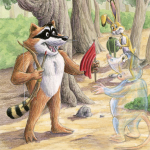 Reading a book to your child is a great way to help your child to learn. Sometimes, though, simply reading the words on the page may not be stimulating enough for your little one. Sometimes your child might be perfectly content to sit and listen but on other days, he may not be able to keep one foot still! Do not fret. Your child can still learn and keep his energy at a high level, too.
The trick is to read to your child interactively.
How to Begin Reading to Your Child interactively 
Start by going with the old standby. Find a cozy corner, grab a blanket and start to read. Once the story has begun to unfold, come up with some questions before moving to the next page. Use questions that will encourage interaction. For example:
Point to some of the pictures on the page and see if your child can describe what the illustrations are. In How Back-Back Got His Name, for example, the 1st page has some terrific illustrations. You could ask, "Why do YOU think the dime in the picture is so big?" If stumped, you could point out to your child that maybe the dime is so big because Lima Bear is so small?
Are you getting a sense for how easy reading interactively can be?
Lima Bear Resources to Keep the Learning Going
If you are ever stuck, remember that in The Lima Bear Series, interactive reading ideas have been provided for you in the back of each book to get you started.  "Extend the learning" pages ideas are available to give you a jump start!
We will have more ideas for you as well in the next post.  Please share any interactive ideas that have worked for you and your child as well.