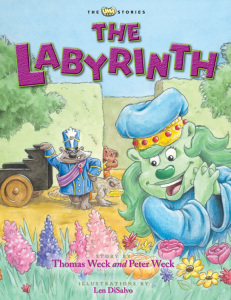 We have suggested ways for you to read interactively with your child: Here are a few more ideas.  Have you ever noticed when reading a Lima Bear Story, like The Labyrinth, that certain words are written in a different way from the rest of the words? The reason for this is to draw attention to the word, usually a more challenging word, so that the child will notice it and ask about it.  You can use these special words as an opportunity to "extend the learning."
**First read the book all the way through with your child
**Go through the book again but this time, have your child point out the words that different from the rest.
**Ask your child to identify how the word is different:
**Is the word bigger or smaller?
**Is it a different color?
**Ask your child to guess why she thinks the word is different
** Have your child say the special words in the story in the way he thinks the author intended for them to be read.
**Talk about how the words could be said differently to express different emotions
**Ask your child to try come up with different word that could be used that would have a similar meaning
In The Labyrinth, some of the special words are "cheered," "twists and turns," and "glowed." You can see what we mean by "special words" from this small sample. They are bit more descriptive, a bit more challenging, a bit more cool.  Please share any ways that you have discovered to "extend the learning" as you read interactively with your child!